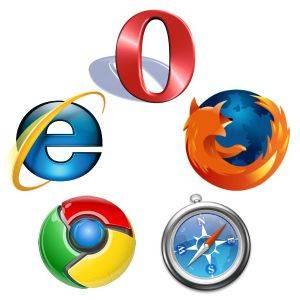 As we discussed last week, there are numerous browsers out there, each claiming to have the latest technology, functionality and add-ons to make your web experience better.
Here we showcase the most popular four browsers – in no particular order and keeping our own preferences to ourselves…
Google Chrome: Chrome is only three years old but it is already making big waves against more established browsers. As of July 2011 Chrome was the third most widely used browser in the world, with a 22% share of web browser usage.
Chrome's success is due to its simplicity, the browser window is very slim – unlike others – with room for just the web address bar and tabs. As the browser is powered by Google, the address bar can also be used as the Search bar, saving time for web users.
Firefox: Firefox is part of the Mozilla group, which also powers Thunderbird mail manger. It is the second most widely used browser after Chrome and is most successful in Europe, particularly Germany and Poland.
Much of Firefox's success is the ability to install add-ons from third parties, allowing web users to adjust their browser according to their likes and dislikes. One of the latest features is 'app tabs', which lets users pin most frequently visited sites to the top left of the browser so they can be easily accessed.
Like the other main web browsers, it also has Firefox Sync, which allows web users to keep their bookmarks and web history the same across all their machines.
Internet Explorer: Internet Explorer is the default browser for almost every machine that needs access online. It is somewhat beleaguered but the latest version attempts to make up for this by taking its design cue from Chrome.
The latest version is sleeker, faster with updated features including a browser that nestles tabs alongside the address bar to maximise on space.
Internet Explorer 9 will still have some way to go to establish itself as a serious competitor against the big three, and move beyond its default setting. Its requirement for Vista or Windows XP will certainly hamper its uptake somewhat.
Safari: In the old days, Mac users had to rely on Internet Explorer for accessing the web. Then, in 2003, Apple launched its own browser, called Safari. Initially, Safari was Mac only but Apple released a Windows version in 2007, opening it up to the majority of the online world.
Compared to other browsers, Safari looks very smart, with a sleek aluminium style finish and a great homescreen that shows your most recently visited sites as thumbnails.
One of Safari's better features is the 'Safari Reader', which strips out ad content on web sites for a simplified view.
Safari easily took web users from Internet Explorer, but it is slower to release new features to make it a serious contender against Chrome.