Everyone is familiar with Google Street View, a technology that provides panoramic views of your country, city, and even house.
Now however, Google is expanding Street View to some of the world's most remote places, including the Amazon river…
Using a trained team of locals, Google will collect images down the length of the Amazon. The pictures will be put together so internet users can explore a 360, panoramic view of the Amazon.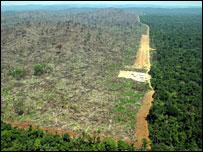 The project is produced in collaboration with the charity, Foundation for a Sustainable Amazon, who hopes to demonstrate the widespread deforestation and poor sustainability efforts in the Amazon basin. With sustainability in mind, the project will continue after Google leaves the area – the team will be leaving behind the mapping equipment for workers from the charity. Google have said that, 'by teaching locals how to operate these tools, they can continue sharing their points of view, culture, and ways of life with audiences across to globe.'
It looks like the project is going to be Google's biggest challenge yet; they'll be taking the original Street View trike down the Amazon – the same one that scanned Stonehenge and Kew Gardens. The trike, which is lighter and niftier than it's cousin, the Street View car, will pedal, 'along the narrow dirt paths of the Amazon villages and manoeuvre up close to where civilisation meets the rain forest,' Google said this week. The trike and camera will then be strapped onto a boat travelling down the Amazon in order to photograph the natural beauty of an area once described as, 'the Earth's lungs.'
If this sounds like your kind of science project, you can read all about it on Google's official blog.