A combined effort of successful fundraising was seen between the Royal Blind and Crush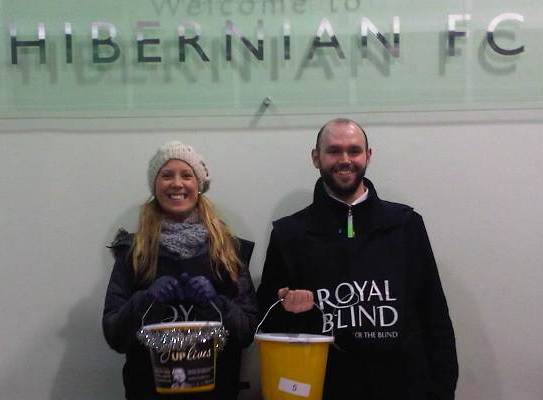 last week.
The 'Kicks for Kids' fundraising event took place at the Hibernian Football Club , which has played a significant role in local communities; from establishing a disability football team to providing educational support in their Learning Centre.
The Royal Blind has been established for over 200 years, providing services for the blind, partially sighted and those with other visual impairments. They work closely with and within communities so fundraising at the Hibs football club was a natural coalition.
Like all charities, Royal Blind rely on the support of individuals and companies, such as Crush, who can dedicate both time and money to the cause. Crush and Royal Blind already have a long history, having worked together to establish Royal Blind's new website as well as websites for the other organisations it runs.
So it was that Scott, Crush's Online Marketer, and Teo, the fresh-faced Intern faced the crowds at the Hibs stadium, with buckets at the ready and voices to match. Along with three members of the Royal Blind team, they braved the cold and collectively managed to raise just under £400 in an hour.
The generous Hibs supporters, as well as St. Mirren's away supporters, were fantastic in showing their support to the worthy charity. The Crush team were proud to show their love for something other than digital, and even managed to create a few catch-phrases along the way.  It's doubtful these catch-phrases will ever be used again, but it definitely did the trick for this Royal Blind Campaign.