It is with tears in our eyes that the team at Crush say a fond farewell to our Marketing Intern, Teo Rangelova.
Teo, who is studying for a degree in Marketing and Business at Napier University, has been interning with Crush since January, but sadly her internship has come to an end.
She will be sorely missed in the office, not just for her tea making skills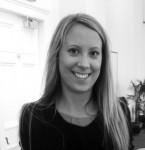 (we're joking really) but for her enthusiasm and excitement for the work Crush does. Teo singlehandedly grew our Twitter following from less than a hundred to over 230 and we expect big things of her when she graduates next year.
We'd like to wish her all the best as she enjoys a fun filled summer and starts her final year in September. If she ever wants to come and visit us, she's more than welcome…