Crush are pleased to announce that the National Braille Week website has gone live. This is another inspiring cause that the Royal Blind have worked tirelessly to promote and the seventh in our Royal Blind portfolio.
Like the other websites we have created for them, National Braille Week is controlled through one central Content Management System, making it easy for Royal Blind staff to update and maintain the website.
We've given them a scrolling banner, which they can use to highlight the most important aspects of the campaign, including celebrity news; Ian Rankin and Joe McElderry have both given their support to the cause. Ian launched National Braille Week to rapturous applause and Joe (whom fans will recognise as the 2009 X Factor winner) launched the first ever Braille CD booklet.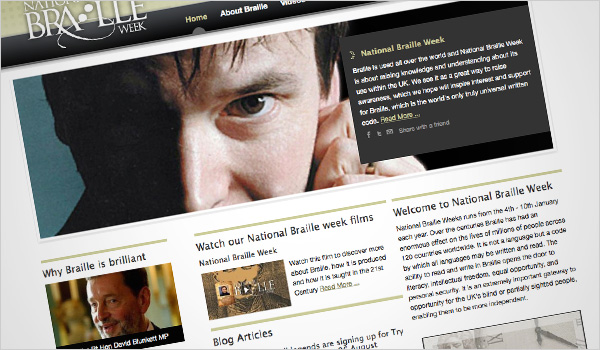 In keeping with all the sites Crush produce, the National Braille Week website has been designed with specific accessibility guidelines in mind, including keyboard access, enabling those with impaired vision to use the site.
We also included a video module so Royal Blind can share videos and films with friends and site users; and a blog to keep everybody interested in the cause up to date with what is happening and how close they are to reaching their £2 million target.
The overall aim of the site was to keep it easy to navigate, clean and minimal with interesting images that link to the interactive sections of the site – including sending a Braille message to friends and an interactive play along timeline. You can play along here: National Braille Week.