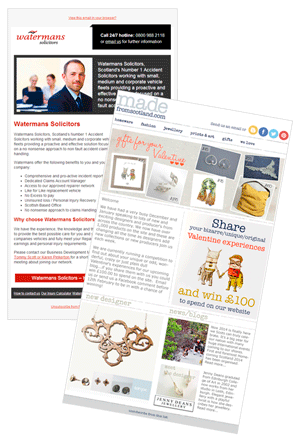 Are you engaging with your customers? When was the last time you contacted your existing clients and told them about a new product or service, bolt on to their account or a special offer?
We know how hard it is to generate new customers and how important it is that once you have them, to retain them!
Keeping in touch with your customers on a regular basis not only helps to keep you in the forefront of their mind but also provides you the opportunity to
Generate additional business by introducing a new product or service
Create customer loyalty by promoting a special offer
Keep your customers informed on the latest company news
Highlighting your expertise with your latest case study, accolade to client testimonial
If you're not already sending regular emails to your customer base, or you are and not getting the desired results from your current activity; we've put together an affordable customer communication package to help you leverage more from your existing customers.
Customer Communication Starter Package
We create a custom designed newsletter/email template for your business. This will adopt brand guidelines and reflect the look and feel of your website ensuring a consistent brand experience for your customers
We work with you to develop the right content to include in these emails, ensuring that these use the same style and tone of voice as your website
We set up the emails for the first and second month of your campaign and provide training to your team on using our email platform, creating new emails and managing contacts
You receive reports on the performance of each campaign so you can understand how your customers are engaging with your email including

Template Testing – Inbox delivery testing
Distribution Data – stats on how many people have received your email and how many email address have bounced
Engagement Data – stats on the number of opens and clicks

You receive ongoing technical and creative support from experienced email marketers to help you and your team develop your email marketing campaigns
Why Use Crush
No monthly subscription fees for your email marketing campaigns- just pay as you go
Send up to 5,000 emails in your first 2 months FOR FREE
Dedicated team of experienced email marketers
Call us on 0845 012 23456 or contact us to find out more and kick start your campaign