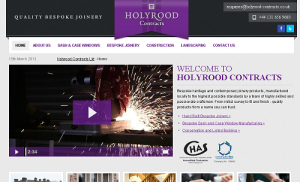 This week we posted about an article in the Scotsman, featuring our client Holyrood Contracts and ourselves. An excellent time to have a look at the work we've been doing for and with them.
About the client
"Quality Products from a name you can trust"
Holyrood Contracts is a long established business in Edinburgh, with a reputation for craftsmanship, tradition and superb attention to detail. The company offer traditional workmanship at its best: highly trained restoration experts, combining ancient skills with modern technology, to replicate some of the most beautiful craftsmanship in the world.
What we did for them
Following a complete re-brand, Crush were asked to create a new online presence to showcase the quality of their work and engage their services and products with clients — and ultimately be seen as high quality specialists within their trade.
It was important that their website covered all areas of their business: from windows made by hand in its own factory to period orangeries and kitchens and conservatories.
Interested to see how the website has turned out? Have a look!
Where we are now
Implementation and deployment of their strategic online marketing activity, as well as future expansion plans in development as part of their phase two build.  The journey has only just begun – exciting times ahead!
Testimonial
"The team at Crush Digital have done a brilliant job"